EEUU: Furious residents of 'Big Potato' gunned down by senseless vandals after NYE
Locals are furious after a huge potato sculpture was cut down by stupid vandals on New Years Day morning.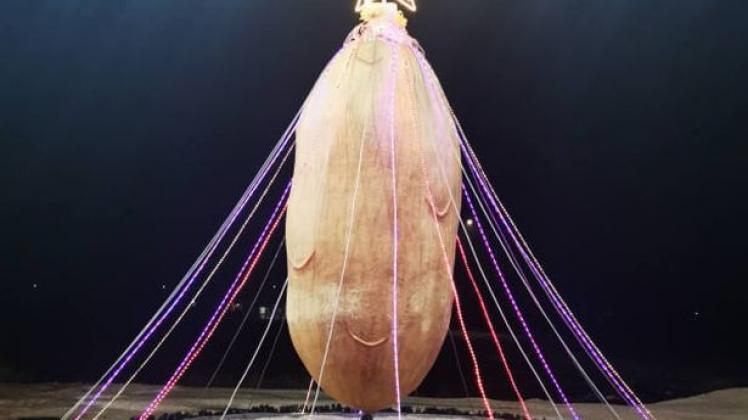 Investigations were still ongoing on Sunday after the monument, dubbed the "Big Potato," was cut from its stand around 3:30 a.m. on January 1.
The four-meter-tall sculpture at the entrance to Xylophagou village in Cyprus went viral in October last year when confused passers-by shared photos of it online.
It was a replica of the Spunta potato variety and had even been decorated with Christmas lights to mark the holiday season.
ALSO READ  Student hero "saves classmate's life" after teenager stops breathing at school
Community leader George Tasou, who created the Big Potato, had visited the landmark on New Years Eve and left around 2 a.m., leaving someone to guard it until morning.
However, vandals arrived shortly after and shot him down, causing damage worth € 5,000 (£ 4,200) in the process.
The big potato has even been decorated with Christmas lights to mark the holiday season.
Read more
Related Articles
Read more
Related Articles
Tasou was reportedly extremely saddened by the incident. He made a statement to the Dhekelia police.
ALSO READ  Mother of four killed in house fire says she will never recover from a loss
Speaking to the Cyprus Mail in October, Tasou explained the significance of this strange sculpture.
He said: "Xylophagou has a long heritage in the cultivation of potatoes and was the main producer of potatoes in Cyprus.
"It helped the village grow into the community of 10,000 people it is today.
It even caught the attention of former Cypriot Ambassador to the UK Euripides Evrviades, who wrote on Twitter: "Other countries have instantly recognizable monuments, now we have ours."
Read more
Related Articles
The big potato was also the subject of mockery, with many netizens pointing out its suggestive shape.
ALSO READ  Search for 'Prince Harry King' explodes 769% as Wills warns to travel safe
"I'm not bothered because it advertised in our village, and I hope it will promote the Cypriot potato to the world," Tasou explained last year.
As it attracted so much attention, the Big Potato had been kept to fend off potential vandals.
There was also graffiti on it before the last incident on Saturday.
For the latest news and stories from around the world from the TBEN, sign up for our newsletter by clicking here.
Read more
Related Articles
Read more
Related Articles
Fuente: https://www.thebharatexpressnews.com/furious-residents-of-big-potato-gunned-down-by-senseless-vandals-after-nye/