Bangladesh: Early variety of potato a boon for farmers
A n early potato harvest has brought fortune to the farmers in Nilphamari district as traders are paying exceptionally high prices for the kitchen staple amid increased demand in the country's major cities.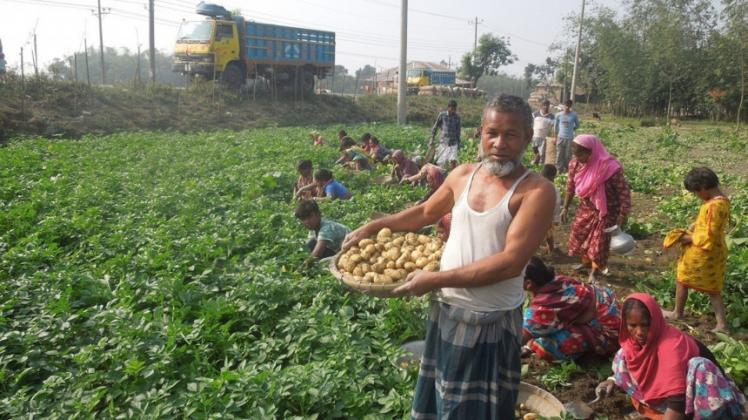 A farmer of Putimari village in Nilphamari's Kishorganj upazila along with others is seen harvesting potatoes from his field. Most of the farmers in t
The situation is unlike the previous season when the farmers incurred huge losses due to preserving their produce in cold storage.
For all latest news, follow The Daily Star's Google News channel.
"Farmers in Nilphamari are the pioneers in producing the early variety of potato that can be harvested only 60 days after sowing," said Kishorganj Upazila Agriculture Officer Habibur Rahman adding that the soil of the region is highly conducive to potato cultivation.
According to the Department of Agricultural Extension (DAE) in Nilphamari, it set the target to cultivate potatoes in 22.5 thousand hectares of land and the production target was 4.5 lakh metric tonnes. However, the early variety of potatoes has been cultivated on 8.1 thousand hectares.
In the meantime, 25 per cent of early potatoes have already been harvested and sold instantly as traders from Dhaka, Chattogram and other cities came to the farmers' doorsteps to purchase the product directly from fields at a competitive rate as this new potato has a high demand in the markets.
Selected villages in the district's two upazilas out of six are blessed with the bumper yield of the variety and they are Panialpukur, Porakot, Putimari, Kalikapur, Nitai, Uttar Durakuthi, Dakkhin Durakuthi, Uttar Bahagli, Dakkhin Bahagli of Kishorganj upazila and Chapra, Natib Chapra, Zadurhaat and Panchapukur of Sadar upazila.
Shamim Hossain Babu, 45, a potato farmer of Uttar Durakuti village in Kishoreganj upazila, said, "I cultivated the early variety of potato in 10 bighas of land spending Tk 2.30 lakh as production cost and got 15,000 kg yield in the third week of November, which was sold at Tk 6 lakh and my net profit stands at 3.70 lakh."
These potatoes after reaching the kitchen markets of Dhaka are usually sold at Tk 80-Tk 100 per kg, he added.
"For an early harvest, we sow potato varieties like Grnula, Karez, Diamond etc in September-October and harvest in November–December," said farmer Zohurul Islam of Kalikapur village in the same upazila adding that late varieties of potatoes are usually harvested in the February-March period.
Farmer Sirajdoula of Chapra village in Sadar upazila said that after harvesting of early potato, they can sow the same crop again in the same land to harvest in the February-March period giving them the opportunity to make extra bucks.
Deputy Director of Nilphamari DAE Abu Bakkar Siddique said, "Early varieties of potato are a blessing to the district's farmers as they bring sure profit. As farmers can cultivate potatoes twice in the same land, hopefully, the production target will be reached by February-March period."
Fuente: https://www.thedailystar.net/news/bangladesh/agriculture/news/early-variety-potato-boon-farmers-2914051