India: HyFun Foods – India's premier potato processor take India's potatoes to 40 countries
Ahmedabad, Aug 12: There was a time when the farmers used to dump quintals of potatoes on the major roads of Deesa town in Banaskantha in Gujarat. It was to raise their voice against low prices of the vegetable.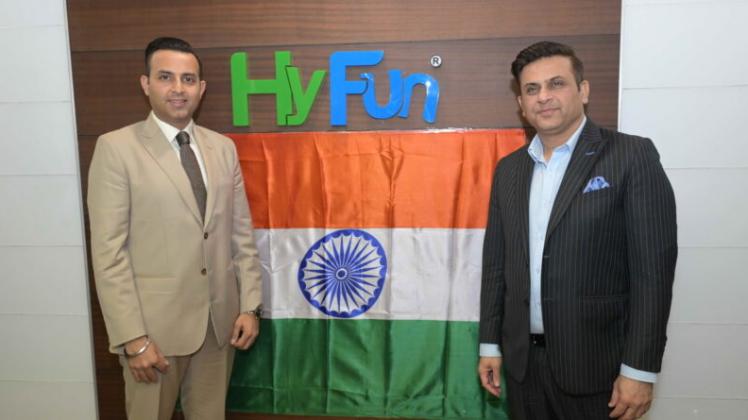 Under the visionary leadership of Haresh J. Karamchandani, a third-generation entrepreneur, HyFun Foods began its propelling journey. Recognizing the potential of potato processing, Karamchandani laid the foundation for HyFun Foods, personally involved in every aspect from concept to production. He was able to recognize that Gujarat's agro-climatic conditions were conducive to the cultivation of processing-friendly potatoes, addressing the challenge of low returns for table potatoes. HyFun Foods partnered with farmers through contract farming, capitalizing on this potential. This transformation underscores the interplay of innovation and nature, symbolizing Gujarat's shift from struggling agriculture to successful processed potato cultivation, embodying collaboration.
HyFun Foods set the Independence Day mood by organising  a 5-day program themed "Yeh Jo Desh Hai Mera", which was held in Himmatnagar and Palanpur.  The key invitees were farmers of North Gujarat associated with HyFun vide contract farming and this program "Kisan Vikas Sammelan" was organized to recognize their contribution in Nation Building. The event showcased the remarkable progress of our nation and its stride in technological advancements through musical ballet, a truly creative performance. The spirit of "Jai Jawan, Jai Kisan" was at the heart of the celebration, highlighting the combined essence of our nation's growth through our diligent farmers and the dedication of our armed forces.
The event aimed to honor the journey of our country from its historic struggles and challenges to its current developments and achievements, symbolizing unity, and patriotism. From these values Hyfun drives its aspirations of enabling farmers through the establishment of a guaranteed income and providing comprehensive support to enhance the cultivation of high-quality processing crops, thereby ensuring their upliftment and progress. The aim was to connect with more and more farmers to empower and nurture them to become progressive farmers.
In 2015, HyFun Foods achieved a milestone with its state-of-the-art potato processing plant, equipped with cutting-edge machinery. Through meticulous contract farming, the company ensures top-quality raw potatoes are processed into premium frozen food products, seamlessly delivered through a cold chain supply network.
A trailblazer, HyFun Foods positioned India as a hub for frozen potato product manufacturing in Asia. Collaborating closely with potato growers, the company supports over 4000 farmers engaged in contract farming, ensuring a steady supply of high-quality produce.
Embracing technology, HyFun Foods is soon introducing Farmoji, a revolutionary farming App. Bridging the gap between farmers and agribusiness, the application propels agriculture into the digital age, fostering transparency and efficiency.
Recognizing its impact, the Government of India hailed HyFun Foods as a "Putting Farmers First" champion in December 2020. Aligned with 'Make in India,' and steadily moving towards 'Make for the world', the company maintains a global presence in 40 countries, upholding quality, and responsible growth.
As India proudly holds the mantle of the "food basket of the world," HyFun Foods stands as a beacon of responsible growth and empowerment. The company's unwavering commitment to quality, innovation, and social impact paves the way for a future where farmers' contributions are celebrated and communities flourish. From the fields of Gujarat to the shelves of global markets, HyFun Foods' journey is a testament to the power of dedication, collaboration, and a shared vision.
Kamlesh Karamchandani Director of HyFun Foods who is leading Sales and Marketing zone of the company has been successful in convincing the international standard compliance by his company before 40 countries where the HyFun Foods is now exporting 70 percent of their produce including UAE and other Gulf countries and are ready to explore Africa.
Kamal Aidasani, Group Commercial Head and Amit Badlani the Environment Officer of the Group briefed the media on this occasion with details of the progress and achievements of the company.
Fuente: https://bilkulonline.com/2023/08/12/7918/