Canadá: Breaking down barriers to sustainability in potato production
McCain Foods teams up with Farm Credit Canada and McDonald's Canada to provide financial incentives for farmers who adopt regenerative agricultural practices.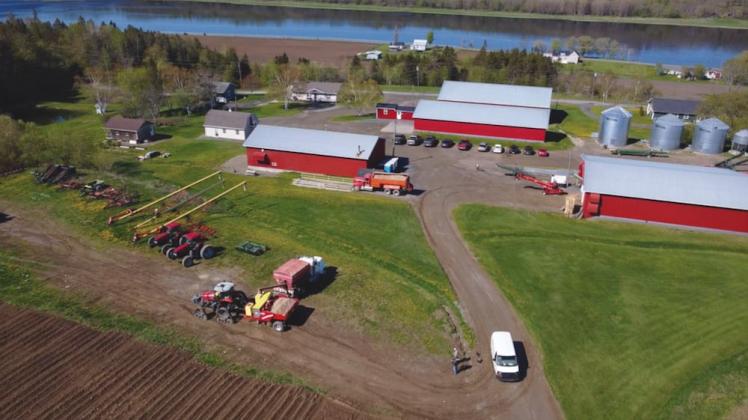 McCain Foods' Farm of the Future in Florenceville, N.B., is the centrepiece of the company's regenerative agriculture efforts in Canada. Photo: McCain
McCain Foods pledged two years ago to implement regenerative agricultural practices across 100 per cent of its potato acreage worldwide by 2030. To help reach that goal, the company is now offering up financial solutions to make sustainable farming more affordable for Canadian potato producers.
ADVERTISEMENT
McCain Foods announced in November it was teaming up with Farm Credit Canada (FCC) for a new program aimed at reducing financial barriers for potato farmers transitioning to sustainable agricultural practices. This follows the move by McCain in August to partner with McDonald's Canada to establish the Future of Potato Farming Fund, which will offer $1 million in grants to growers to help them implement regenerative ag practices and technology.
Both programs support McCain Foods' global Regenerative Agriculture Framework. This voluntary framework, which supports farmers as they transition to sustainable agriculture, was developed in collaboration with a range of stakeholders. It sets clear definitions and measurements for a regenerative potato acre at four different stages — onboarding, beginner, expert and master levels.
"Smart and sustainable farming is a key pillar of McCain's commitment to be a more environmentally conscious company," says Daniel Metherington, vice-president of agriculture at McCain Foods.
"Regenerative agriculture is part of our DNA as a family business born on a potato farm in Florenceville, New Brunswick, in the 1950s," he adds. "Regenerative agriculture also provides critical climate adaptation to secure supply for the future of our industry. We are committed to working in partnership with our growers to identify and test regenerative practices that make agronomic and economic sense and build soils to improve resilience."
McCain acknowledges the transition to more sustainable farming practices often requires upfront investments in new equipment and practices from farmers. Metherington says the new programs are intended to help potato growers with that.
McCain and FCC Initiative
The funding initiative offered by McCain Foods and FCC offers financial incentives to McCain's 140 or so potato farming partners in New Brunswick, Manitoba and Alberta. It uses a combination of funds from FCC's Sustainability Incentive Program and from McCain to issue an annual incentive to producers who are at the onboarding level or higher on the Regenerative Agriculture Framework.
ADVERTISEMENT
FCC customers who are McCain potato suppliers are eligible to receive incentive payments of up to $2,000 a year. Participating McCain growers can also receive free access to FCC AgExpert farm management software for a year.
McCain Foods is adding to the FCC incentive paid to its potato producers, based on where the farmers are in their journey on the Regenerative Agricultural Framework. McCain will provide matching funds of $2,000 to eligible producers at the onboarding level, while those at the highest master level are eligible to receive up to $14,000 from McCain.
"McCain and FCC are proud to both reward growers who are leading the way on regenerative agriculture and reduce barriers for those who are starting the journey," says Metherington. "We saw (this) as a good opportunity to build an incentive program to encourage farmers to adopt regenerative agricultural practices and move their way up our Regenerative Agricultural Framework."
The executive director of New Brunswick Potatoes, Matt Hemphill, stated in a press release:
"We are excited to see this new offer between McCain and FCC that rewards Canadian potato growers for their sustainable practices and provides an incentive to advance. The ability for expert and master regenerative farmers to receive a significant incentive reduces barriers to farm investment in an era of rising rates, increasing complexity and escalating climate variability."
Future of Potato Farming Fund
The Future of Potato Farming Fund established by McCain Foods and McDonald's Canada provides education, demonstration and cost-sharing grants to eligible McCain producers.
ADVERTISEMENT
The joint initiative consists of two rounds of grants (the first round opened last August) for farmers to implement established regulatory practices to build soil health and resilience. During the program, McCain Foods, McDonald's Canada and the Soil Health Institute are working together to measure soil health progress in areas like increased soil organic carbon, aggregate stability and improved drainage capacity.
"Through our shared vision with McDonald's Canada, we are focused on supporting our growers in accelerating the transition to the key principles of regenerative agriculture like maintaining living cover, reducing tillage intensity, diversifying rotations, reducing the intensity of chemical applications and enhancing biodiversity," said Jeremy Carter, McCain's director of agriculture for Western Canada, in a press release.
Under the Future of Potato Farming Fund's cost-share mechanism, qualifying growers can get help paying for projects identified in the fund's priority list of regenerative practices and technologies. These include cover crop seed, flower strip seed, lower intensity tillage equipment, decision support systems, organic soil amendments and more.
Hemphill said potato producers welcome the initiative. "This is a great example of supporting Canadian farmers with the tools they need to trial regenerative farming techniques, with an aim to future-proofing the land, and ensuing quality potatoes to share with Canadians for generations to come."
Farm of the Future
Metherington says McCain Foods is making good headway as the company moves toward the 2030 regenerative ag goal for its contracted potato acreage.
"Farmers are already making great progress on this journey and our framework clearly lays out the areas of focus. Our local technical teams are working with farmers to understand which areas and practices will help and accelerate them along the framework," he says.
ADVERTISEMENT
"However, this is a total supply chain solution and new varieties also play a key role. McCain is heavily investing in this to ensure we bring varieties that optimize inputs and are more resilient to the climate challenges we are facing each year."
Metherington notes the centrepiece of his company's regenerative ag efforts in this country is Farm of the Future Canada, a commercial-scale, full rotation regenerative farm operated by McCain in Florenceville.
"Farm of the Future Canada has recently completed its second full growing season, and we are encouraged by the results," says Metherington. He adds priority practices in the first two years included cover cropping, diversifying rotations, rotational grazing and controlled traffic farming.
Metherington says the purpose of the farm is to test regenerative ag practices and establish farming methods which are not only scalable and feasible but also make financial sense for potato producers.
"That said, we know regenerative best practices vary by region. For that reason, we need model farms in all three of our Canadian potato growing regions," he says. To achieve this objective, McCain is launching Innovation Hubs with potato grower partners in Manitoba and Alberta who will test local regenerative best practices, technologies and new varieties in their fields. The first Innovation Hub will be in Manitoba this year.
Metherington says McCain designed its Farms of the Future project to test regenerative agricultural practices not just in Canada but in different potato growing regions around the world. Farm of the Future Canada led the way, and a second one, Farm of the Future Africa, will be established in South Africa. The location of a third Farm of the Future has yet to be announced.
– This article was originally published in the 2023 edition of the Potato Guide.
Fuente: https://www.country-guide.ca/crops/breaking-down-barriers-to-sustainability-in-potato-production/