Información Técnica: Alternative weed management with projectile abrasives
Andrew McKenzie-Gopsill can't help but admit that he had a blast conducting the latest trial of his experimental alternative pest management device: a sandblaster.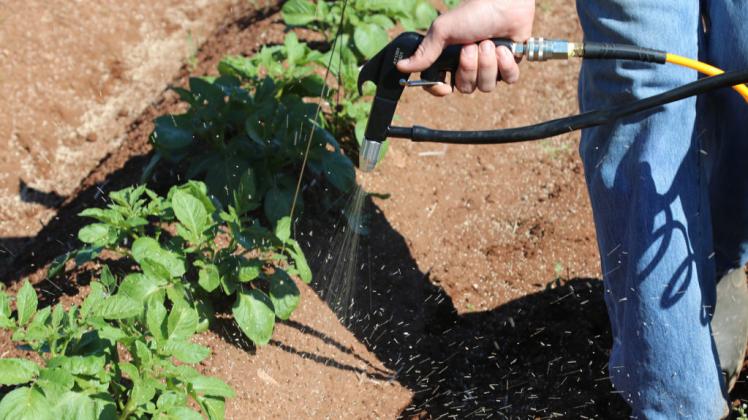 "I'd never sandblasted before, so yeah, it was quite fun," he said.
Potentially one of the next available options in non-toxic weed management, McKenzie-Gopsill, an Agriculture and Agri-Foods Canada (AAFC) research scientist at the Charlottetown Research and Development Center on Prince Edward Island, is testing how effective it can be to decimate problem pests with a deluge of walnut shells and corn cob particles. So far the results have been *very* promising, he said.
"Small broadleaf weeds were totally eliminated," Mckinsey-Gopsill said. "Larger broadleaf weeds were severely stunted and basically stopped growing."
If successful, the sandblasting technique — a subcategory of pest management called projectile, or ballistic, weed management — would be one of the most eco-friendly and sustainable weed prevention methods available.
Andrew McKenzie-Gopsill in the field using a sandblaster for weed control.
Funded through AAFC, McKenzie-Gopsill's project is part of a two-year program to fund alternative pest management projects that can immediately help farmers control invasive species. A handful of farms in Canada are testing the sandblasting technique on crops that include potatoes, grapes, soybeans, snap beans, blueberries and field crops.
The concept is simple: physically destroying the photosynthesizing portions of the weeds keeps them from growing or seeding. It could be just as effective as pesticides, but at a fraction of the cost and with no soil-harming chemicals.
Despite using traditional sandblasters as the delivery device, actual sand isn't used due to the dust being potentially carcinogenic. A variety of non-carcinogenic materials are being tested as a medium. So far, ground walnut shell and corn cob are doing the trick. They're inexpensive, plentiful and easily obtainable for many growers. Even more importantly, they can be integrated into a farm's crop cycle, meaning the farm itself can effectively produce its own pest management materials. The fact that walnut shells and corn cobs are non-toxic also means that this new weed management option could avoid a host of regulatory hurdles.
McKenzie-Gopsill's innovative weed-blasting trials have just completed their first year. They've experimented with four different grits of both walnut shell and corn cob, as well as a mix of the two. They're also looking at the potential of other additives, such as baking soda, that would leave a coating on any partially destroyed leaves and further inhibit photosynthesis.
The crops are sprayed twice: once at the standard time when an herbicide would be applied, and once right before flowering. Researchers then rate the results using three metrics: the amount of post-spray new growth, new disease development, and total biomass and seed production.
While it's too early for definitive results in seed production and the potential effect on disease, the results on biomass reduction are already overwhelmingly positive.
"We are definitely seeing a huge reduction in biomass," said McKinsey-Gopsill. "We were able to get pretty good control of both lambsquarters and corn spurry, which are two of our most problematic species in potatoes here."
Both lambsquarters and corn spurry are weeds that common rimsulfuron herbicides, in this case Prism, have little effect on, which adds benefit to the sandblasting technique.
Compared to other methods, sandblasting adds a much smaller amount of material to the soil it's being applied to. McKenzie-Gopsill's trial is targeting a mass of only 480 kilograms per hectare (roughly 425 lbs/ac), and so far seems to have little to no effect on the soil chemistry. Researchers are watching for any potential effects caused by the introduction of allergens that potentially hitch a ride on the walnut shells, but so far none have been detected. In the future, there may be a potential to combine fertilizers with the projectile material that could increase soil health while eliminating weeds.
McKenzie-Gopsill hopes that sandblasting will emerge as one of the lowest-cost solutions for potato weed management available. While other new, high-tech solutions using lasers and flamethrowers to destroy weeds are in development and already in use, the machines required for these techniques are costly. Sandblasters are inexpensive and use what would otherwise be waste material as the medium, so the technology would be much more accessible for smaller farms.
It's also more sustainable.
"It could potentially be very useful in organic production," said McKenzie-Gopsill. "As we move towards consumers demanding to reduce pesticides, it could be another great tool for producers in their weed management tool box."
McKenzie-Gopsill is excited to see the full results after the two-year trial period is completed. If the results continue to be as positive as the first year has been, sandblasting has a huge potential to be a major player in potato pest management in the very near future.
Photo: Agriculture and Agri-Food Canada
Fuente: https://spudman.com/article/alternative-weed-management-with-projectile-abrasives/