Canada: P.E.I. seed-potato growers hopeful for compensation soon
Seed growers still looking to get borders reopened.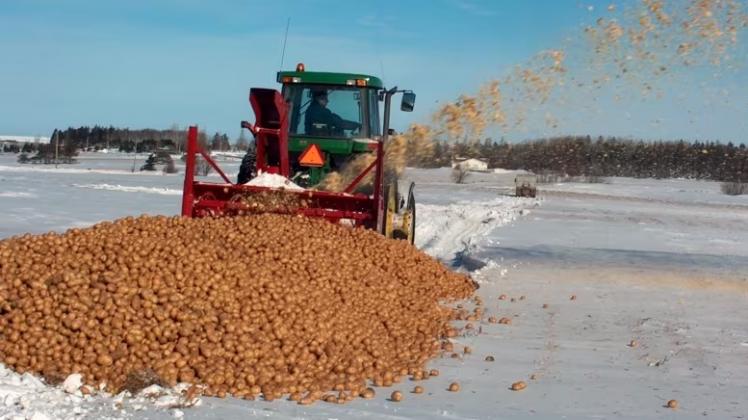 Seed-potato growers who destroyed their crops last year because borders were closed to their sale are hopeful promised compensation from the federal government could come this month.
The Canadian Food Inspection Agency stopped transport of seed potatoes, along with table potatoes, in the fall of 2021 after potato wart was found in some Island fields. It ended 20 years of successful management of the pest.
A year later, P.E.I. potato growers still feeling impacts of U.S. border closure
So far, compensation to seed growers has only covered the cost of running the potatoes through a snowblower, said Greg Donald, general manager of the P.E.I. Potato Board, but those growers heard good news at the annual P.E.I. Potato Conference in Summerside Monday.
Greg Donald at podium with microphone.
Greg Donald told the P.E.I. Potato Conference on Monday that compensation is expected very soon. (Brian Higgins/CBC)
"The government has made a commitment to provide compensation to those seed producers," said Donald.
"It hasn't materialized yet. So the message from Ottawa is that should be available any day. So they have been saying that for a while."
The total compensation package is expected to be worth $8 million.
Seed industry 'still in turmoil'
Hundreds of millions of pounds of seed and table potatoes were destroyed last year, with the border to the U.S. closed to all fresh potatoes from P.E.I.
The border reopened to P.E.I. table potatoes on April 1, 2022, but seed potatoes are still prohibited from leaving Prince Edward Island.
Ray Keenan of Rollo Bay Holdings in Souris, which grows fresh potatoes, said the industry is in a much better place now, with exports of table potatoes reopened, but he added there is still work to do.
Ray Keenan inside convention centre
There is still work to do to get the seed industry back on its feet, says Ray Keenan. (Brian Higgins/CBC)
"The seed industry is still in turmoil," said Keenan.
"We're not allowed to ship seed off the Island to other provinces as of yet. There's some progress being made in terms of establishing pest-free areas. We're en route to making that happen but it hasn't happened yet."
INFOGRAPHICHere's how many P.E.I. potatoes will be destroyed because the U.S. border is closed
Potato wart situation was 'mismanaged,' says South Rustico farmer
The potato board told farmers attending the conference it is confident P.E.I. can re-establish itself as a pest-free area.
It said a key part of that will be taking fields known to be infected out of production permanently, and keeping other fields clean.
With files from Brian Higgins
Fuente: https://www.cbc.ca/news/canada/prince-edward-island/pei-seed-potato-compensation-1.6747499