Gran Bretaña: Rising costs hitting Cambridgeshire chip shops and potato farms
Chip shops and the local farms who supply potatoes said rising costs were hitting their businesses.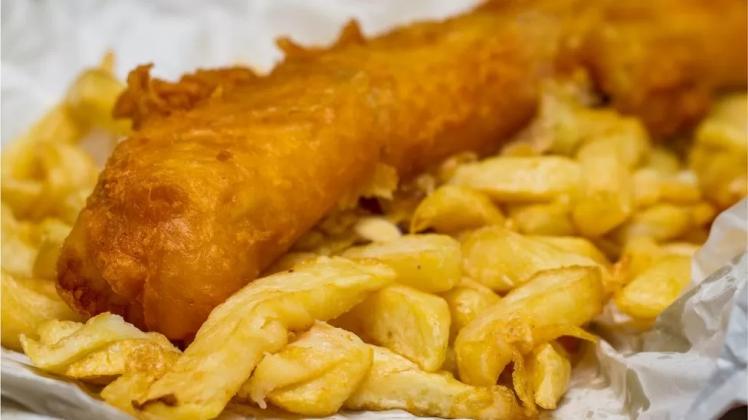 By Ben Schofield & Pete Cooper
Potato growers in Cambridgeshire said higher fuel, fertiliser and seed prices were eating into their profits and they would plant fewer crops.
Mark Petrou, who runs a chip shop in Chatteris, said he would not be able to trade if his fuel bills continued to increase.
The government said it was providing firms with "unprecedented support".
Mark Petrou
Image caption,
Fish and chip shop owner Mark Petrou said his customers understand prices have had to rise
Mr Petrou, who has been running fish and chip shops since 1987, said he had to put his prices up three times over the last year.
The price of some his fish has increased by about 60% but he said he tried to keep his dishes "affordable".
"People realise that prices are going up everywhere," he said.
Mat Smith with potato conveyer belt
IMAGE SOURCE,BEN SCHOFIELD/BBC
Image caption,
Being able to source potatoes locally helped keep some costs down, Mark Petrou said
Mr Petrou said his fuel bill was due to increase in July next year from £900 a month to £3,500, which he said was "not sustainable - at that level we'll not be able to trade".
Luke Abblitt
IMAGE SOURCE,BEN SCHOFIELD/BBC
Image caption,
Luke Abblitt said uncertainty over prices and costs was a serious issue
Farmer Luke Abblitt, based at Ramsey St Mary's, said he would plant 14 acres of potatoes this year compared with 20 acres last year.
He said: "There's a lot of input costs, so fertiliser has gone up, nearly doubled, there's seed costs, fuel costs, there's also labour costs."
Mr Abblitt said his major concern was "the volatility, the not knowing the costs. If I know the [prices] at the end, I know what costs I can put in".
Mat Smith
IMAGE SOURCE,BEN SCHOFIELD/BBC
Image caption,
Farmer Mat Smith said the potato crops were no longer as profitable as last year
F Smith and Sons, in nearby Ramsey, will be only planting a third of the amount of potatoes it did last year.
"The reality is that we just can't afford to carry on like this and we've got to diversify into other things," Mat Smith from the farm said.
He estimates that the farm will lose about £50 per tonne of potatoes it sells, and has begun to make bird feed mix as it was more profitable.
Mr Smith said: "It's just the worst case scenario, we had an extremely warm summer, so the yield of some varieties was half of what we would expect, and our fuel costs have gone up."
Why are prices rising so much?
Family support charity sees demand more than double
'This community shop is good but tragic we need it'
The government said it was providing an "unprecedented level of support for small business", including £18bn this winter.
In a statement it said there was continued support with energy costs "from April onwards through the energy bills discount scheme".
Firms will get a discount on wholesale prices until the end of March 2024, under the new scheme.
Heavy energy-using sectors, like glass, ceramics and steelmakers, will get a larger discount than others but firms will only benefit from the scheme when energy bills are high.
Fuente: https://www.bbc.com/news/uk-england-cambridgeshire-64307628