Bélgica: Above all, let us not lose sight of that potato
COVID-19 has benefitted the demand for ware potatoes. So says Bart Nemegheer of De Aardappelhoeve in Belgium. The company cultivates and markets mainly these products.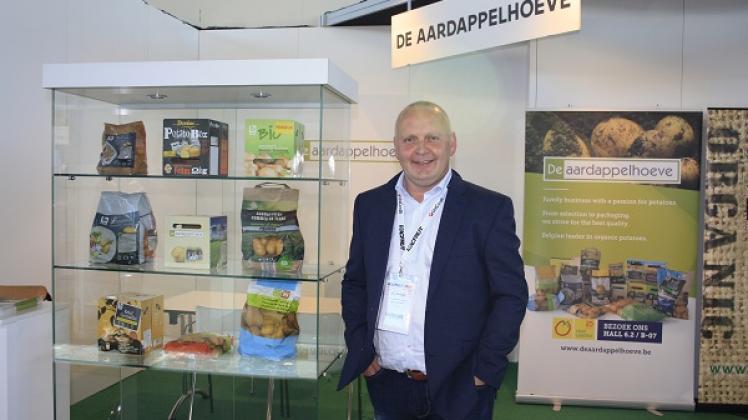 "Last year, consumption increased by eight percent. Previously, it had fallen three to four percent annually," he says. Bart thinks the long-awaited summer break will negatively affect demand for ware potatoes. But he hopes consumption will recover in the fall.
Joint media campaigns should boost potato consumption - especially among young people. Here, Bart believes it is important also to highlight potatoes' importance. "It's healthy, local, and sustainable. It doesn't cause weight gain either. It's a superfood." Yet young people appear to be rejecting potatoes' outdated image and complicated preparation methods. "The 60+ age group eats the most potatoes. The younger the people, the fewer potatoes they eat," he explains.
Developments
Regardless of the age group, the potato packer sees sales moving more toward smaller packaging sizes. That is to prevent food wastage. And because people only buy what they need. They no longer stock up on potatoes at home. There is more demand for baby potatoes too. "These are very versatile without the extra work. Young people increasingly choose these. Sweet potatoes - strictly speaking, not a tuber but a root crop - are also enjoying increasing interest."
Bart says sweet potato fries served by fast-food chains lead to consumer interest in preparing this product at home. "It's a trendy, extremely versatile food," he continues. De Aardappelhoeve grows sweet potatoes on about ten percent of its land. That acreage grows annually. "It's intended to minimize imports. And, in time, perhaps avoid them altogether. You can store sweet potatoes for up to 14 months. That's if you cure its skin properly."
"We're working hard at making sweet potatoes available year-round to our Belgian retailers," Nemegheer says. De Aardappelhoeve is not only focusing on avoiding sweet potato imports. The short-chain is a crucial focus within the company's operations. "It's up to consumers to show that they're serious about preferring local and sustainable. They must choose not to lose sight of local potatoes either. Then rice and soy don't have to be brought in from the other side of the world."
Variety selection
De Aardappelhoeve cultivates organic potatoes too. Bart says that segment is growing. However, with a three to four percent market share, there is still a long way to go. "Organic production affects prices. I'm sure the organic sector will grow. But I don't expect it to displace the fresh cultivation conventional sector," he adds. Even with conventional farming, sustainability is an important aspect for De Aardappelhoeve.
Bart points out that using pesticides is costly. Its use is also increasingly difficult to explain to people. "If pest-resistant varieties are introduced with the same or better culinary properties, we won't hesitate to invest more in them. It's better for the environment and also, technically, easier to grow." That is apparent now. This season's heavy rainfall is causing considerable phytophthora pressure.
"It's pricey to spray the pest-sensitive varieties continuously. It's also difficult to carry out the treatments. That's because the rain makes the fields difficult to access," Nemegheer concludes. He thinks this phytophthora and wet rot - caused by the abundant rainfall - may begin affecting this season's crops. That supports the already-existing trend in Belgium. The old varieties like Charlotte and Nicola are facing more competition from new varieties like Laurette, Gourmandine, and Annabelle.
These are hardier and produce more marketable tubers. And they are easier to harvest. The potato packer sees that consumers, however, need to be convinced. They are not familiar with the new varieties. Things like taste tests are done to determine consumer preferences. There is another development around variety choice. Supermarkets are increasingly interested in exclusively carrying certain potato varieties.
Bart Nemegheer
De Aardappelhoeve
Putterijstraat 7A
8700 Tielt (België)
+32 (0)477 29 17 84
bart@deaardappelhoeve.be       
Fuente: https://www.freshplaza.com/article/9348961/above-all-let-us-not-lose-sight-of-that-potato/