India: Potato farmers in distress in Odisha Bargarh
BARGARH ; The farmers of Bargarh feel cursed. Yet to recover from the crop loss of 2015-16 kharif season, they were forced to go for distress sale of cabbage, tomato and chilli and now it is the turn of potato.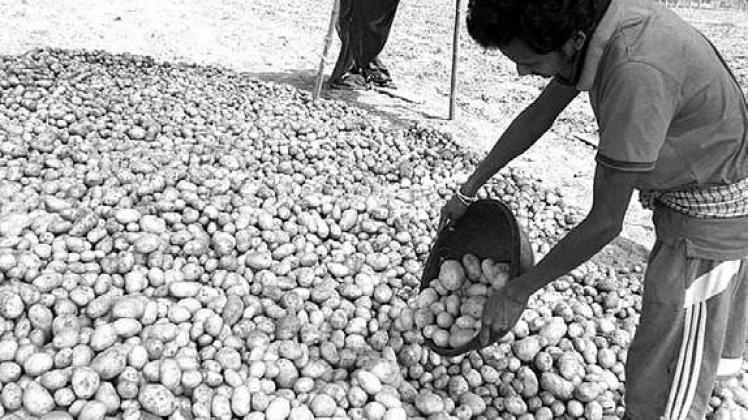 The farmers had put all their hopes on potato and looked forward to make up for the loss. Even as potato is being sold for `8 per kg in the open market, the farmers are finding it difficult to even recover the cost of cultivation with traders offering anything between `2 and `3 per kg. In the absence of cold storage, the farmers have no way out but to dispose of the produce at throw away prices.
Moreover, the State Government is yet to fix the minimum support price (MSP) for potato despite tall claims of Potato Mission. To make things worse there is no organised market to ensure fair price to the farmers.
Under Potato Mission, besides providing incentivised potato seed, the State Government had also committed to give capital subsidy for new cold storage as per the agricultural policy of 2013. It was also mooting subsidising power tariff for existing and new cold storages till March 31, 2018.
Plans were also sketched to maintain buffer stock to deal with short-term scarcity situation and a target has been set to bring 60,000 hectares of land under potato cultivation by 2017-18. But, on the ground the picture is not rosy.  This year, the Department of Horticulture had distributed 5350 quintal potato seeds to 29 farmers in Bhatli, Bargarh and Attabira blocks.
The seeds were meant to produce 424 quintal of potato. This apart, about 500 quintal of seeds were procured from open market and cultivated by farmers across the district. As the situation stands today, many farmers have resorted to distress sale of potato while many are refusing to harvest it as they want to avoid further losses.
Premanand Dang of Jamurda village in Bargarh block had cultivated potato over half an acre of land. But, he has no purchaser and is forced to sell his produce at distress prices.
Those who had taken debt for the crop were the first to sell their crop at `3 per kg in absence of any organised market in the district. Similar is the condition of Rajkumar Pradhan of the village, who is not daring to harvest his crop in absence of market. Even if he harvests the crop, the amount he would be getting for the produce would not be enough to recover the harvesting cost.
Assistant Horticulture Officer, Sunil Kumar Seth said no communication has been received from the State Government on MSP of potato. There was no cold storage in the district and said if farmers wish they can avail the facility in Sambalpur, he added.
Fuente: http://www.newindianexpress.com/states/odisha/2017/mar/09/potato-farmers-in-distress-in-odisha-bargarh-1579377.html