Tasmanian: Onion producers seek to regain lost export ground
Following a fall in exports by $A5m between 2013 - 2017, Tasmanian onion growers are seeking to rebuild export markets following the receipt of a major Federal Government grant.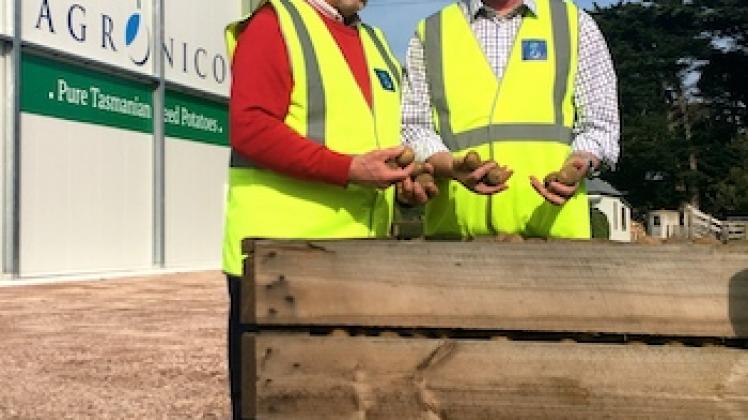 Ian Locke (left) examines seed potatoes at Agronico with Senator Steve Martin
The Horticulture Export Group - Tasmania (renamed from the Tasmanian Fruit and Vegetable Export Facilitation Group) was the recipient of two export grants awarded in North West Tasmania today.
"The export package is for two individual projects. Seed Potato Access to Indonesia and Export Onion Rebuilding," said Ian Locke of the Horticulture Export Group.
"Increasingly, these international markets are becoming highly competitive and Tasmania must continue to review past activities and research future opportunities."
Ian said Tasmania remained a prime food exporter due to disease-free status, quality produce and key advantages in food security, food safety, climate and soils, season asynchrony and high-recognition brands in international markets.
"Our Group remains the only joint consortium in Tasmania solely concentrating on identifying and facilitating new export markets for vegetables and fruit."
"To rebuild markets for Tasmanian onions in Europe and Indonesia, the Group would undertake a scoping investigation," Ian said.
"This includes grower collaboration, desk-top and onsite research, to be undertaken this year so that outcomes can be reviewed and incorporated into 2019 and 2020 planning and market negotiation."
"The outcomes arising from the research into market access covers interaction with the Tasmanian Government and Horticulture Innovation Australia Ltd so any market access matters are addressed collaboratively."
Work will be undertaken with horticultural onion exporters to discuss issues with market access and competitiveness in northern hemisphere markets including those countries divided by the equator.
The second part of the proposal focuses on seed potato access into Indonesia.
"For Tasmania to gain access to the Indonesian market for seed potato, considerable proof- of capacity/capability requirements are necessary," Ian said.
"These include an emphasis on evidence-based, export ready and broadly supported requests supported by stakeholders, and a technical case on disease-fee systems, testing and demonstrated free of disease, virus and pests for Tasmania."
Ian explained delivery of a proof-of-capacity/capability statement for Tasmanian seed potato to access the Indonesian market, would enable the Group to undertake the business case leveraging existing production, collaborates with Indonesian demand and facilitates market access.
Potatoes South Australia and VicSPA have identified market access to Indonesia enables certified seed potato growers in South Australia and Victoria to supply the Indonesian market with potentially 85,000-mt of certified seed potatoes with a market value of $AUD110m annually.
The grants were arranged by Senator Steve Martin, independent Senator for Tasmania, who lives in North West Tasmania.
Ian Locke
Export Facilitator
Horticultural Export Group - Tasmania
https://tasfruitveggroup.com.au
mailto:ian.locke@tasfruitveggroup.com.au
+61 0438 911 319
Fuente: http://www.freshplaza.com/article/193918/Tasmanian-onion-producers-seek-to-regain-lost-export-ground