India: Ahead of harvest, memory of rotting potatoes in 2017 leaves farmers 'nervous'
On Budget day, the entire village gathered around potato farmer Mahendra Singh's "Phillips TV" to hear what the government had in store for them. Buffeted by demonetisation at the end of 2016, followed by low prices all of last year, they hoped for s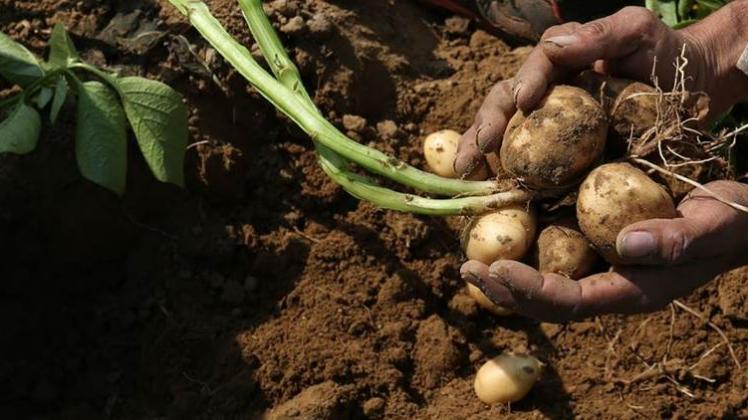 The potato farmers here sow the tubers in October, and harvest them starting around now, till March. (Express Photo/Amit Mehra)
Mahendra says they were sorely disappointed. "Har saal ekaheen cheez bolte hain (They say the same thing every year)," says the 65-year-old.
Nagla Hira Singh village lies in Hathras tehsil which, together with Aligarh, Mathura, Agra, Firozabad, Etawah, Mainpuri, Kannauj and Farrukhabad in south-west Uttar Pradesh, accounts for roughly a fifth of India's potato production of around 480 lakh tonnes (lt) a year. Eighty per cent of the village's population of 270 is involved in potato cultivation.
With another round of harvesting set to begin from February 20, the farmers all across complain of the same — high production, low remuneration and indifferent government. And of mounds of potatoes left to rot in cold storages, or simply discarded, last year.
Hathras District Horticulture Officer Gampal Singh says that of the 14-15 lakh tonnes (lt) of potatoes produced in Hathras in 2017, 95 per cent were "out of cold stores". "Most of the potatoes were sold at low prices in mandis. Not much was discarded," the officer insists.
The potato farmers here sow the tubers in October, and harvest them starting around now, till March. Only about 10-15 per cent is sold immediately, and the rest is kept in cold storage, to be released as per prices. To stock their produce from February-March till November 30, cold storage owners charge farmers Rs 110 per bag, says potato farmer Chandra Vir.
READ | Prices unsteady, Andhra Pradesh tries a seed experiment
Carefully walking in the furrows of his 70-bigha (14-acre) field at Nagla Hira Singh, amidst ripe potatoes that are starting to peep out, Chandra Vir admits he is "nervous".
Last year, he had harvested 40 bags of 50 kg each per bigha, against 25 bags in 2016. "But I could sell only 20 per cent of my 2,800 bags. Since the potato price couldn't cover the cold storage charges, I just left my produce there," says the 36-year-old father of two.
Om Vir Singh, who has a 20-bigha plot, says their troubles began with demonetisation in November 2016. "Since most traders pay in cash, there were no sales for a month." Things haven't looked up since, according to the 25-year-old.
At Agra, India's largest market for potatoes, 60-odd km from Hathras, potato prices averaged about Rs 4.20 per kg in 2017, less than half the year before. Current rates are just Rs 4 per kg.
READ | Govt keeps stepping in to drive down prices of onions; farmers ask what about us
Counting input costs like labour, irrigation, fertilisers and transport (to cold storage), Om Vir says, "It costs Rs 10,000 to cultivate potatoes on 1 bigha land. Ab aloo agar kaudiyon ke daam bikega toh kisan kya kamaayega (If potatoes sell for peanuts, what will a farmer earn)? For the past two-three years, we have failed to recover even our cultivation costs."
While Hathras has 154 private cold storage units in all, Nagla Hira Singh alone has three.
Compared to Chandra Vir and Om Vir, Mahendra, a bigger farmer, with 200 bighas, was less devastated by the low prices, though his "4,000 bags out of 6,000" went waste.
The farmers are aware of the new Operation Greens for horticulture crops, and of the PM's "TOP" promise. But, says Om Vir, "Kisan toh Operation Greens samajh nahin paaya (The farmer has not understood Operation Greens). No official has come to us yet."
In the absence of official communication, such a plan seems to them as ill-conceived as the BJP government's promises in the state. In April last year, with prices staying low, it said that state agencies would purchase 1 lakh metric tonnes at a support price of Rs 487 per quintal; three months later, it declared a subsidy for farmers to take potatoes to other states.
Chandra Vir explains why the schemes didn't help. "They wanted only large- to medium-sized potatoes, plus had other specifications. Most of our potatoes did not fit the bill. And as for sending potatoes to other states, no one needs them anymore… West Bengal, Gujarat etc all grow their own potatoes. Also, the subsidy couldn't have covered the costs."
Horticulture Officer Gampal Singh agrees there is little demand for UP's produce now. "We had suggested that farmers grow papaya, tomato, capsicum, roses etc. But these need a lot more work and the farmers are not willing," he argues.
About the state government's purchase plan, the officer says four centres were set up in Hathras. However, the total procurement of potatoes from the district was just 120.5 quintals — less than the individual harvest of most farmers!
The farmers have been struggling to pay not just cold stores but also bank loans. "We usually borrow against our Kisan Credit Cards before the sowing season, around Rs 6-7 lakh… I haven't been able to pay that," says Mahendra.
Measures such as loan waivers are no solution, says Chandra Vir, nor are suggestions that farmers set up processing facilities. "How are we going to run potato chip plants? Setting up even a small plant will mean more loans… Aur ab Modiji ne TOP bol diya… Ye bolne waali sarkaar hai (And now the PM has said TOP… This is a government of claims)."
Over at the Shri Radhe Giriraj Cold Storage on the Mathura-Hathras road, owner Rajendra Gaur is preparing to receive the fresh harvest. "Last season, we had stored 1.15 lakh bags from 300 farmers; 40 per cent never came to take the potatoes. We lost about Rs 30 lakh. We fed the potatoes to animals," he says.
Chandra Vir fears that such setbacks are killing farming. "The problem today is there is no pride in farming. I will not let my children do the same," he says. A Class 12 pass, he sends his children to a "convent" school. "I pay Rs 1 lakh fees annually. Last year I borrowed the money."
Fuente: http://indianexpress.com/article/india/ahead-of-harvest-memory-of-rotting-potatoes-in-2017-leaves-farmers-nervous-5058982/