Kenia: Farmer faces Uganda for potato sales
Every farmer knows that after a harvest, real work starts. To many farmers, marketing produce is the most complicated part of an agribusiness venture.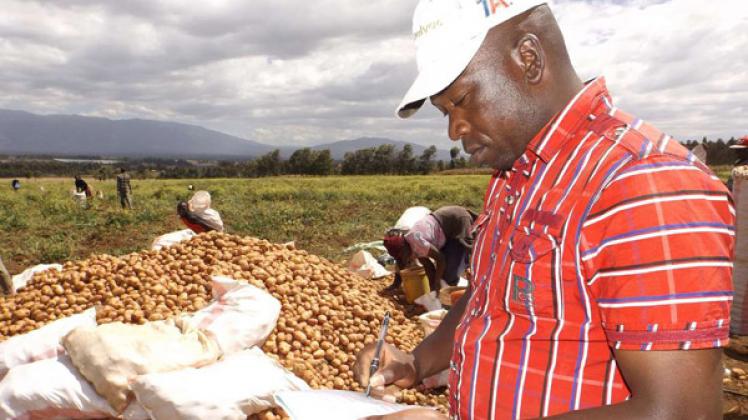 Joshua Kagera makes records as potatoes are packed in his farm in Ol Kalou Constituency, Nyandarua. He sells his potatoes in Kampala markets to make m
Joshua Mwangi Kagera, a farmer with over 10 years' experience under his belt, is currently harvesting potatoes under 30 acres in Ol'Kalou, Nyandarua County.
He is doing it in phases to enable him find the ideal market for his produce and maximise profits.
"I started engaging with farmers immediately after high school in 2004 after securing employment as a turn boy for a lorry whose owner bought farm produce and sold it in Nairobi," Kagera says.
Later, using the little savings he had made from his employment, Kagera started buying and selling cereal products from farms and supplying to local markets until 2014 when he realised that of all the food produce he had dealt with, potatoes were the most profitable.
He thus acquired a two-acre plot where he planted potatoes. The first crop did well and he was able to harvest 80 sacks of potatoes each weighing 150kg.
"When it came to selling the produce, I discovered I was making money but not as much as I had anticipated despite eliminating the middle men. I even ferried the produce to Mombasa because it would fetch the best price there" Kagera continues.
He says having factored all the expenses from land preparation to harvesting, a sack of potatoes weighing 150kg will cost Sh2,000 in Nyandarua. In Nairobi, the same will go for Sh3,200.
Transport from Nyandarua to Nairobi costs up to Sh200. Add cess levy at Sh70 per bag, labour at Sh250 and middle man at Sh130 and it all comes to Sh650, without factoring in personal allowances like food and rest.
"Taking Sh650 from Sh3,200 leaves you with Sh2500 on a good day. On average I would make a profit of Sh200 per 150kg sack I sold."
It's in one of his trips to Nairobi that he met a Ugandan who had brought pineapples that he got information of a better market in the neighbouring country if he had the right middle man.
UNFAVOURABLE CONDITIONS
The Ugandan went ahead and introduced Kagera to a middle man by phone and a deal was made to deliver 80 sacks of potatoes to Kangurumira market in Kampala.
"In Uganda, a sack goes for Sh5,000 translating to a profit of up to Sh1,500 after all the deductions – with transport being the highest at Sh800, cess Sh220, labour Sh250 and middle man Sh150 – are made." says Kagera.
He says that since he started taking his produce to Uganda in September last year, he has been able to realise profits good enough to enable him to engage in large scale potato farming.
He also adds that the exports have enabled him to secure a loan to buy a lorry worth Sh4 million that he uses to ferry the produce.
Kagera attributes good returns to market research, timing and networking. He says these are activities a produce marketer should engage in to make the best out of the venture.
"When the market dynamics are favourable and the produce is in good condition and delivered in good time, you get good returns." He says.
He adds that if the conditions are not favourable, the profits can reduce or turn into losses.
Unfavourable conditions include bad road conditions leading to farms and the markets. This affect the perishability period of the produce hence compromising the quality before the product gets to the market.
The other challenge is extortion from Kenya to Uganda by police with a journey costing upwards of Sh4000. Another issue is that crooked middle men who will want to swindle you.
Nyandarua executive for Agriculture James Karitu says that the county government has plans to setup storage facilities to store potatoes for up to six months.
"We are also in talks with foreign investors to source for better variety of seeds to help improve the export our produce while at the same time help start processing industries," said Dr Karitu.
He added that packaging potatoes into 150kg sacks is not farmer friendly and court cases are hindering gazettement of rules governing produce packaging which is a big concern to farmers.
Fuente: https://www.nation.co.ke/business/seedsofgold/Farmer-faces-Uganda-for-potato-sales/2301238-4298602-g1r2xf/index.html