Bangladesh: Spring rain puts curse on potato, bricks
Incessant rain for the last three days has brought woes to the potato farmers in Munshiganj while about 60 brickfields in Thakurgaon have suffered a blow due to sudden shower on Friday night.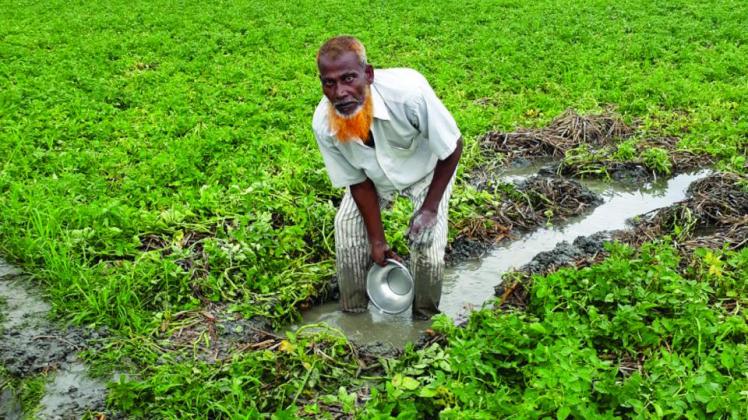 A potato grower in Munshiganj's Louhajang upazila removing rainwater from his field. Photo: Star
The rain in Thakurgaon damaged huge quantities of raw bricks which were piled up in the open fields.
As there is very slight chance of rain at this time of the year, most of the brickfield owners kept the raw bricks under the open sky for drying.
Thakurgaon Brickfield Owners Association President Murad Hossain said on an average around 5 lakh raw bricks in each of the brickfields have been damaged due to the rain.
The extent of losses could go up to Tk 4 crore, he said.
Besides, the rain has doused the fires of several brick kilns and it cost Tk 1.5 lakh to relight a brick kiln, Murad added.
Mosharul Islam, owner of ZMB Bricks at Barunagaon village in Sadar upazila said he incurred a loss of Tk 10 lakh as the rain damaged his 8 lakh raw bricks which were piled for drying.
A number of brick kiln owners claimed that they will have to face trouble this year as most of them took loan from different banks and non-governmental organisations.
Away in Munshiganj, incessant rainfall in the last three days has added to the woes of the potato growers in the district and ruined their hopes.
A number of growers in Sadar and Louhajang upazila claimed that the potatoes which were left on the fields in the ongoing harvest period would be completely damaged due to the rainfall.
According to Department of Agriculture Extension in Munshiganj about 39,300 hectares of land were brought under potato farming in the district this season.  
Fuente: http://www.thedailystar.net/country/spring-rain-puts-curse-potato-bricks-1374496