India: Agro corpn ties up with ITC for potato supply
The Punjab Agro Industries Corporation (PAIC) has tied up with ITC to supply it 3 lakh bags of processing grade potato from them. Potato will be procured for Rs 500 per quintal besides the cost of the gunny bags and loading.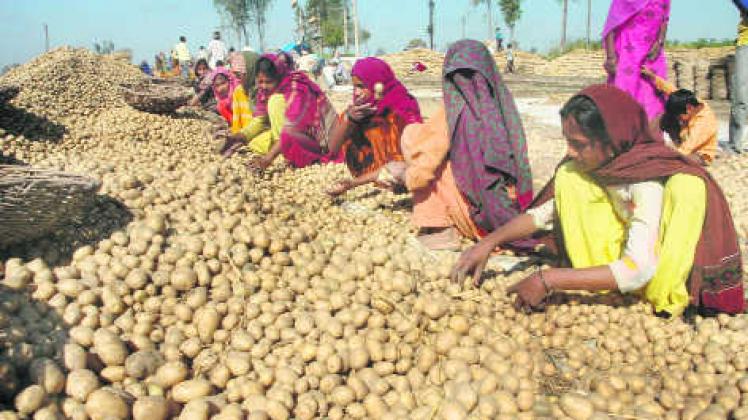 Revealing this, Managing Director of the Punjab Agro K. S. Pannu said today. He said mainly farmers grow table varieties but in some districts like Patiala, Fatehgarh Sahib, Ludhiana and Bathinda, processing grade potato was also grown.
The ITC would accept tubers containing sugar up to 12 per cent and not beyond this limit. Likewise, Mahindra and Mahindra would procure 40, 000 bags of potato. PAIC has already 20,000 bags of potato for the ITC.
"I hope that the procurement of potato would stablise the market and farmers would gain from this exercise", said Pannu. He said that there was possibility of exporting to Russia and Sri Lanka from the next week. "I am in touch with Jalandhar Potato Growers Association in this regard.
Punjab Agro was also helping farmers send potato to South India and would provide subsidy to such farmers. Already, 40,000 bags had been sent to South India and 10 more rakes would be sent soon," he added.
BKU leader Balbir Singh Rajewal said that Markfed and other organizations should also extend help to farmers to stabilize the potato market.
He said he had the impression that things were not moving as fast as these should.
The government should play a proactive role to save potato growers, who were facing a glut.
Growers were unable to even recover their inputs, he added.
The Potato Growers Association president, Jang Bahadur Sangha, said that the possibility of supplying potato to Pakistan via Wagah should also be explored. "The potato prices are high in Pakistan and the consumer there would benefit from such a decision," he said.
Fuente: http://www.tribuneindia.com/news/punjab/agro-corpn-ties-up-with-itc-for-potato-supply/375256.html